The Cyprus Question: Can there be a breakthrough in 2006?
Round-Table Discussion organized by the Research Center – Intercollege
The many parameters that define the framework of any possible new effort for a Cyprus settlement were addressed at a round-table discussion entitled "The Cyprus Question: Can there be a breakthrough in 2006?" held at Intercollege, on 26 January organized by the Research Center – Intercollege. The gathering heard Professor Andreas Theophanous Director-General of the Research Center - Intercollege and Mete Hatay, Project Manager at the International Peace Research Centre in Nicosia provide two different perspectives that appeared to reflect the current impasse but they were treated to a careful codification and analysis of the positions of the two sides.
Professor Andreas Theophanous suggested that the gap in the positions between the Greek Cypriots and the Turkish side is a stumbling block that prevents a breakthrough in 2006. He elaborated the background and concerns that led to the rejection of the Annan Plan by the Greek-Cypriot community, the lessons learned by the previous peace process, the current situation in view of the forthcoming parliamentary elections and the new context in which Cyprus finds itself as a full member of the European Union with Turkey eager to achieve full membership. According to Theophanous at maximum what could be promoted in the short run is an upgraded package of confidence building measures centering Famagusta in conjunction with more economic openings for the Turkish Cypriots.
Mete Hatay touched on the misconceptions on both sides and argued that after the opening of the crossing points in April 2003 people began resorting to legal means to reclaim their properties in what he described as a type of new legalistic war. He explained that by gradually regaining their properties both communities would feel no motivation or pressure to seek a comprehensive solution.
The round table chaired by Campus Director Emilios Solomou concluded that there will be little progress for a settlement in 2006. But it was stressed that it is important to upgrade confidence between the two sides.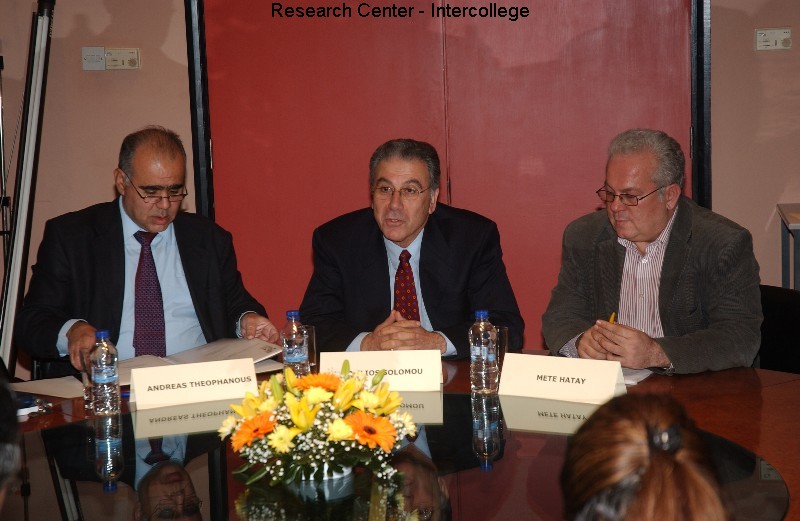 ---
Research Center - Intercollege
Copyright © 2006. All rights reserved